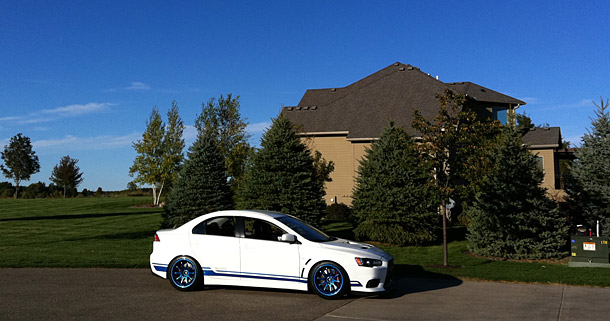 At this point, the 311RS looked the part - Wheels, tires and suspension, check. 311RS livery, check. Now it was time for some AMS power! The choice to go with an AMS engine package was an easy one. We had developed and tested a majority of them on my Evo X, I knew they worked properly and we were confident that the package was more than capable of producing the right amount of power for the 311RS.
Keeping the engine internally stock was important to retaining the warranty, so we stuck with AMS bolt-ons. And that's not a bad thing, the Evo X makes great power with simple breathing mods. With all of AMS's bolt-on's selected, just the details needed to be decided. For the initial 311RS prototype, I wanted to keep the car simple and effective. Polished piping was chosen. For the 11 production units, AMS and I have something special planned...but those parts will have to wait until the time comes.
Beyond just the engine parts, things like the lightweight front crossmember, shifter bushings and stiff engine mounts rounded out the AMS treatment on the 311RS. The tactile feel of the car is just as important as how it performs, it needs to feel good at the same time. With everything installed it was time to tune the package. Tuned for 91oct, the car made a very conservative 350whp and 350tq, which if it were to be rated at the crank would be 420bhp and 420tq. Good solid numbers. Off to Infineon to shoot the 311RS Promo film!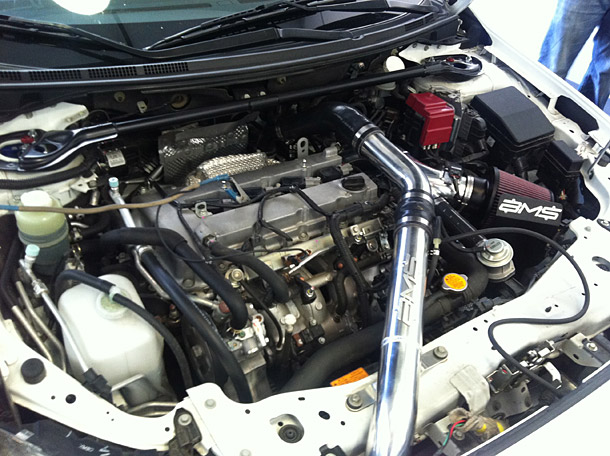 « Back to News